G-Star RAW continues their innovative and sustainable approach with their latest collection.
Head of Menswear design Leo Brancovich and Head of Womenswear design Marly Nijssen bring to life the 'Exclusive by G-Star Raw collection'.
This season there is a fresh take on denim & natural fibers, with an emphasis on seasonal chambray and ecru denim. Bright orange accents with transparent elements contrast exaggerated boxy utility silhouettes and refined details, transforming inspiration from the past into unique, wearable garments for now and the future.
Every Exclusives piece has its own narrative, inspired by the G-Star vintage archive. Some of the stand out features of each garment include the clinical construction technique, a "blind" stitch, and less pocket seams. These intertwine with renewable fabrics such as 100% chambray linen and Japanese Ecru selvage denim contrasted by black pocket linings.
The 'Exclusives by G-Star RAW' collection brings reinvention and innovation to every stitch, seam and rivet.
These are some of the pieces we love:
E Trnch WMN
This transparent rip-stop trench coat is half-lined with a dense, uncoated "memory" fabric of 100% recycled polyester in vibrant orange. A bonded plaquet with laser-cut buttonholes makes for a knife-edge finish. Accentuated with a half-zip closure and safety-webbing belt, sourced from the world of utility.
GSRR 2 in 1 Mac MN
Based on a 1930's British Army uniform. This flared oversize trench has a removable liner of Japanese chambray. Its rich ecru selvedge denim is contrasted by black pocket linings, gloss-black shank buttons and black interior chain-stitching. Featuring a 'blind' chest pocket and a tailored sleeve with front shaping pleats.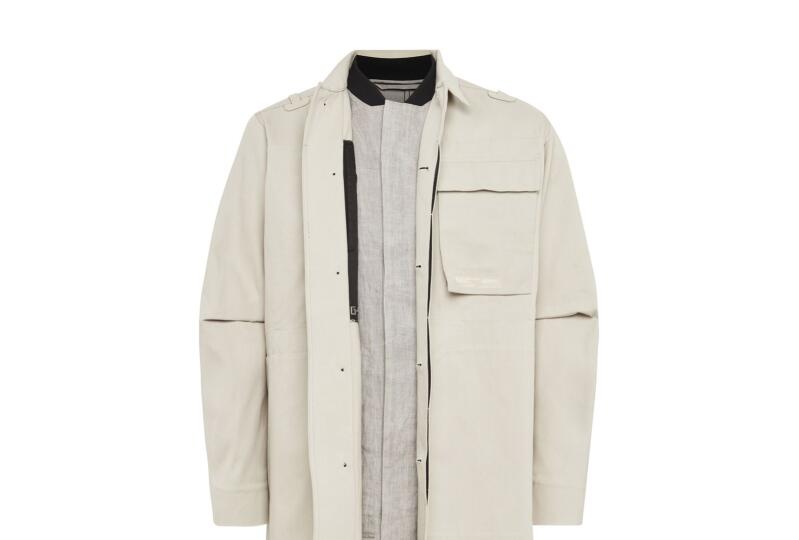 GSRR Grip 3D Relaxed Tapered MN
The new "chino fit" shape from G-Star, with a regular waist, roomy top-block and tapered leg. Rich dry ecru selvedge denim is contrasted with black pocket linings, gloss-black shank buttons and black internal chain-stitching. Featuring silicone-injected pocket details, "blind" stitch-less pocket seams and bonded lamination film on the front leg.